St. Louis Cardinals 2016 Spring Training Schedule at Roger Dean Stadium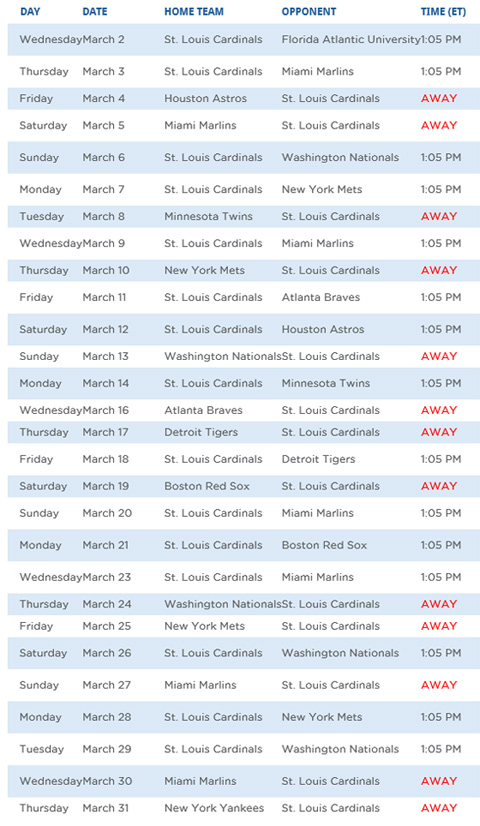 JUPITER, FL - Earlier today the Miami Marlins and St. Louis Cardinals announced their 2016 Spring Training schedules and both will be back to Roger Dean Stadium in 2016 for a total of 28 games, plus two exhibition games, according to the teams.
The Atlanta Braves, Boston Red Sox, Detroit Tigers, Houston Astros, Minnesota Twins, New York Mets, New York Yankees and Washington Nationals will all be visiting Roger Dean Stadium during Grapefruit League action. The Cardinals, Astros, Mets and Yankees all made the postseason in 2015, with the Mets being crowned the new National League Champions.
Spring Training will begin with an exhibition game between the Marlins and the University of Miami on Tuesday, March 1st with the game beginning at 1:05 p.m followed by the Cardinals taking on Florida Atlantic University on Wednesday, March 2nd at 1:05 p.m. as well. Including the exhibition games, Roger Dean Stadium will host 15 home games for both the Cardinals and the Marlins. The Marlins will host the Washington Nationals in this Spring's only night game at Roger Dean Stadium on Friday, March 25th at 7:05 p.m.
Roger Dean Stadium will once again be offering two Batting Practice experiences for fans to be able to see Yadier Molina, Giancarlo Stanton and your other favorite Cardinals and Marlins hitters as they take batting practice and get ready for the game. With either package, fans will be able to enter the stadium an hour earlier than normal gates through Gate B at 10:30 a.m. daily and 4:30 p.m. for the night game. For $5.00, fans will be able to watch batting practice from anywhere in the park. If you would rather be closer to the action, a $30.00 package will allow fifty (50) fans per game to watch from the field in a designated area, receive a lanyard with a souvenir field access credential and take a photo in the home team's dugout. With a limited number of spots available per game, make sure to grab this deal quickly. For more details about batting practice please contact the Stadium Ticket Office at (561) 630-1828.
Season tickets for both of the Marlins and Cardinals can be purchased at the Roger Dean Stadium Ticket Office or by calling (561) 630-1828. Season tickets can save fans anywhere from $6.00 up to $18.00 per game over an individual game ticket. Individual game tickets will go on sale Saturday, January 16th for those in person during Roger Dean Stadium's 'Fan Fest' and via our new ticketing partner, Tickets.com at 10:00 a.m.
Papa John's 6+ Mini Plans are also a great way to give the gift of baseball this holiday season to your beloved sports fan. With this package, fans can purchase tickets to six or more games this Spring. Papa John's 6+ Mini Plans start at just $89 and provide an opportunity for fans to acquire premium tickets such as the Boston Red Sox and New York Yankees early. Papa John's 6+ Mini Plans can be purchased at the Roger Dean Stadium Ticket Office.
Group ticket reservations can be made today for the 2016 Spring Training season. Groups can take advantage of the luxury suites, Cassidy Cool Zone or box seats. Call (561) 775-1818 and ask to speak to a group sales representative to discuss the various group packages offered.
The full schedule for Spring Training at Roger Dean Stadium can be found below and at www.RogerDeanStadium.com. Fans can also find information on season tickets, Papa John's 6+ Mini Plans and group tickets by visiting the website or by calling the stadium office at (561) 775-1818.
Vist the St. Louis Cardinals Official Home Page
Purchase Spring Training Game Tickets Here
Get Information about Roger Dean Stadium