Snappers Caught Fishing off of Jupiter, Florida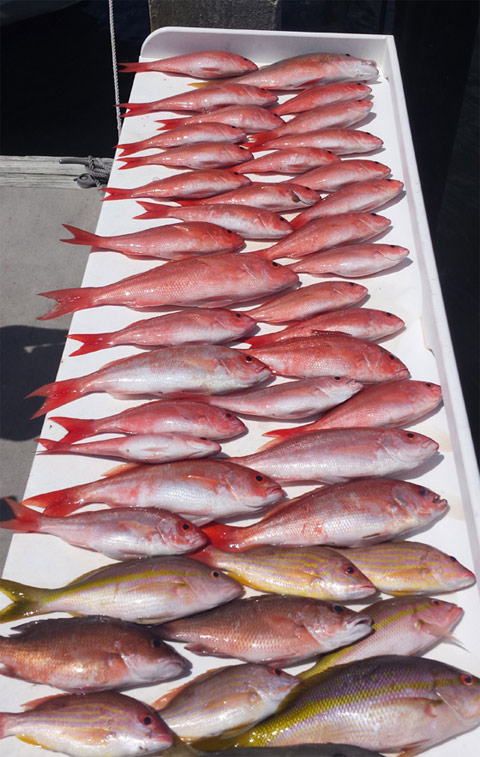 Above is a sample of the snappers we catch fairly routinely throughout the year. Pictured are mainly Vermillion Snappers. The bottom three rows contain Yellowtail Snappers, Lane Snappers and Mangrove Snappers.
The Following is an Excerpt From Florida Sport Fishing Website About Vermillion Snappers
When glamour species such as mutton snapper and grouper aren't biting, savvy Florida anglers target vermillion snapper. Unique to this fishery is the opportunity to consistently target a relatively deep-water snapper in open water environments. Unlike most snapper species that closely associate to exposed reef ledges and high profile structure where they thrive on a diet of crustaceans and finfish, in their constant hunt for forage vermillion snapper won't hesitate roaming far and wide from an adjacent debris field. And while diminutive vermillion certainly won't break any records for being the largest deep water predator, they are an aggressive schooling fish that are often easy to catch, making them ideal targets for a broad range of anglers ranging from hardcore private boaters to novice party boat passengers.
The search for the rosie rewards, which commonly substitute substantially larger red snapper on restaurant menus and behind seafood counters, generally starts in 25 to 50 fathoms, however experienced deep droppers are rarely surprised when they haul up a trio of vermilion from more than 100 fathoms. In any case, it is important that there is structure nearby. A series of sharp ledges or deepwater wrecks provide ideal habitat, yet precise positioning over such structure isn't a matter of life or death. Actually, in this venue with so much water between you and the seafloor, you're obviously far better off drifting across a promising area in your search for a pile of hungry fish. This means helmsmen who lack polished anchoring skills should be sure to include vermilion snapper in their bottom fishing repertoire.
Read More At Florida Sport Fishing's Website...