Drift Fishing Singer Island, Florida Near West Palm Beach Produced This Large Dog Snapper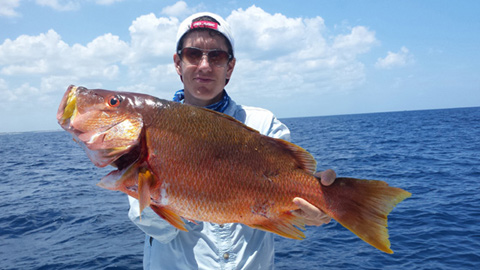 Facts About Dog Snappers
These tough-looking fish boast large canine teeth, set in their upper jaws, which are visible even when their mouths are closed. Smaller fish often fall victim to the dog snapper's powerful bite, as do shrimp, crabs, and other bottom-dwelling creatures.
Adult dog snappers prowl rocky seafloors and reefs at average depths of about 100 feet (30 meters). Their turf includes the western Atlantic Ocean from Brazil to Florida and, more rarely, north to Massachusetts.
The dog snapper is a bit of a lone wolf and tends to keep to itself most of the year. All that changes in March, however, when the fish gather in large groups to reproduce at spawning sites in the northeastern Caribbean and near the island of Jamaica.
Snappers may travel large distances to reach these spots. Once there they mingle en masse to release sperm (males) and eggs (females) into the sea. The eggs, and later the hatched larvae, are left to drift, and many individuals are devoured-but good numbers survive to eventual adulthood. Vulnerable young dog snappers tend to stay closer to shore and are often found swimming in estuaries.
Several things still puzzle scientists studying spawning aggregations, including how the fish choose these special sites and find their way back to them year after year. The fish do return, however, with amazing attention to both time and place.
Though this species is formidable it's not the top dog in the neighborhood. Adults fall victim to larger hunters like sharks and groupers, while tiny larvae are far more vulnerable and consumed with relish by all manner of marine creatures.

*Party boat, deep sea fishing, drift fishing, ocean, boat, deep sea fishing Jupiter, deep sea fishing Jupiter Florida, drift fishing Jupiter, drift fishing Jupiter Florida, Party boat Jupiter, party boat Jupiter Florida, deep sea fishing jupiter fl, jupiter inlet fishing charters, deep sea fishing jupiter, fishing jupiter florida, jupiter fishing boats, jupiter fishing, jupiter fl fishing, jupiter fishing charter boats, boat rental jupiter fl, deep sea fishing juptier florida, jupiter fising charters, part foat fishing, jupiter florida fsihing charters, deep sea fishing in jupiter florida, palm beach county fishing, fishing trips near me, deep sea fishing trips in Florida, charter boats jupiter florida, Party boat, deep sea fishing, drift fishing, ocean, boat, deep sea fishing stuart, deep sea fishing stuart Florida, drift fishing stuart, drift fishing stuart Florida, Party boat stuart, party boat stuart Florida, deep sea fishing stuart fl, stuart inlet fishing charters, deep sea fishing stuart, fishing stuart florida, stuart fishing boats, stuart fishing, stuart fl fishing, stuart fishing charter boats, boat rental stuart fl, deep sea fishing juptier florida, stuart fising charters, part foat fishing, stuart florida fishing charters, deep sea fishing in stuart florida, palm beach county fishing, fishing trips near me, deep sea fishing trips in Florida, charter boats stuart florida, Party boat, deep sea fishing, drift fishing, ocean, boat, deep sea fishing riviera beach, deep sea fishing riviera beach Florida, drift fishing riviera beach, drift fishing riviera beach Florida, Party boat riviera beach, party boat riviera
beach Florida, deep sea fishing riviera beach fl, riviera beach inlet fishing charters, deep sea fishing riviera beach, fishing riviera beach florida, riviera beach fishing boats, riviera beach fishing, riviera beach fl fishing, riviera beach fishing charter boats, boat rental riviera beach fl, deep sea fishing juptier florida, riviera beach fising charters, part foat fishing, riviera beach florida fishing charters, deep sea fishing in riviera beach florida, palm beach county fishing, fishing trips near me, deep sea fishing trips in Florida, charter boats riviera beach florida, Party boat,
deep sea fishing, drift fishing, ocean, boat, deep sea fishing singer island, deep sea fishing singer island Florida, drift fishing singer island, drift fishing singer island Florida, Party boat singer island, party boat singer island Florida, deep sea fishing singer island fl, singer island inlet fishing charters, deep sea fishing singer island, fishing singer island florida, singer island fishing boats, singer island fishing, singer island fl fishing, singer island fishing charter boats, boat rental singer island fl, deep sea fishing juptier florida, singer island fising charters, part foat fishing, singer island florida fishing charters, deep sea fishing in singer island florida, palm beach county fishing, fishing trips near me, deep sea fishing trips in Florida, charter boats singer island florida